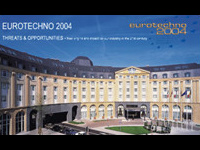 The fifth eurotechno coin-op industry conference will take place on Thursday may 6th at Le Meridien hotel in Brussels (facing the Central station). Among the topics discussed, let's note an in-depth vision of the future in technology and entertainment, the European legislation and taxation, the reprocessing of electronic components and the social responsability of the gaming industry.
Announced speakers are Oscar Nieboer, managing director of Virgin Games, Nolan Bushnell, founder of Atari and CEO of Uwink, Bob Cooney, vice-president of marketing at Ecast Inc, Luke Alvarez, CEO of Inspired Broadcast Networks, Peter Hannibal, electronic gaming director with Gala Group, Harmen Brenninkmeijer, CEO of Octavian International, Dominique Bé, deputy head of the European Commission's Employment and Social Affairs, Philippe Vlaemminck, senior lawyer and head of office at Vlaemminck & Partners, Adam Craig, international tax director with Deloitte & Touche and Jean Bergevin, head of the European Commission's Internal Market unit.
This year's event coincides with Euromat's 25th anniversary that will be celebrated at this occasion. Full delegation (2 people) registration fee is fixed to 550 € (excl. tax). For more info like the programme of the day, a full speakers list and registration, check the official webpage.

Author: AB Team

More info...

Permalink