Japanese Best Income Award 2003
Amusement Journal recently published the ranking of arcade games that provided the best income in year 2003 in Japan. Here it is:

Video Games
Virtua Fighter 4 Evolution (Sega/AM2)
The King of Fighters 2002 (SNK Playmore)
Virtua Striker 2002 (Sega/AV)
M. S. Gundam Federation VS. Zeon DX (Capcom/Banpresto)
Virtua Tennis 2 (Sega/Hitmaker)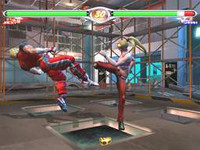 Big Video Games
Initial D - Arcade Stage Ver. 2 (Sega/Sega Rosso)
Taikono-Tatsujin 4 (Namco)
WORLD CLUB Champion Football SERIE A 2001-2002 (Sega/Hitmaker)
Battle Gear 3 (Taito)
The House of the Dead III (Sega/Wow)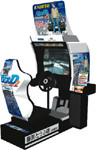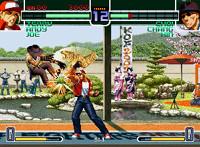 Some series are very popular if we compare with last year's ranking: Regarding fighting games, Virtua Fighter 4 Evolution takes first place (Virtua Fighter 4 was ranked third in 2002 behind Tekken). By the way Tekken disappeared, allowing The King of Fighters 2002 to won one place in comparison with 2001 edition. Sport games are doing well too with Virtua Striker 2002 winning two places compared with VS3 last year. Virtua Tennis 2 enter the ranking at the fifth place, this shows that game is still providing serious income two years after its release. Let's specify this game doesn't have any competitor. Gundam DX ranked first in 2002, it's now fourth one year later. That's a good achievement since it's the same and only game.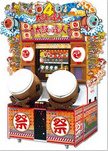 On big simulators side, racing games series Initial D - Arcade Stage and Battle Gear keep their respective position with new editions. Drum game Taikono-Tatsujin 4 is doing better than number 3 and win two places since last year. Regarding lightgun games The House of the Dead III take the place of Time Crisis II. For games with satellites, it's World Club Champion Football that replaces Derby Owners Club II. Thanks to a partnership between Sega and Panini, players play WCCF with cards of football players they bought. A very good concept!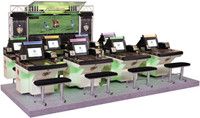 For 2004, if this successful series logic continues, future winners are already available with titles like The King of Fighters 2003, Initial D - Arcade Stage ver. 3 and WCCF Serie A 2002-2003 for example. But promising titles can change things, Out Run 2 is one of them. Of course this ranking is about Japan only but with a few exceptions (like Gundam DX and Taikono-Tatsujin), these games are also suitable to european public. It should be noted that in Japan, national competitions are organized... That seriously reinforces one game's popularity. It's the case for Virtua Fighter, The King of Fighters and World Club Championship Football.
Provided by Amusement Journal.