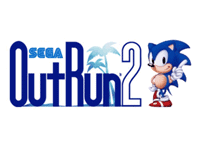 After the departure of Dave Barron, previous sales director Paul Williams has been promoted to become the new CEO at Sega Amusements Europe. We wish him a lot of success with his new function!
Still Sega. Six months after its (japanese) arcade release, the home version of OutRun 2 is announced on X-box system even though Yu Suzuki declared that this game wouldn't see a home release because arcade sensations can't be recreated on home systems. Microsoft surely offered lots of dollars to convince him. However, it's an english studio external to Sega called Sumo Digital Ltd who's in charge of the conversion. we might think it's a suicidal move by Sega but it's clear that playing this game at the arcade has nothing common with the sitting-room TV! It's also obvious that the operators who invested in this jewel won't regret it, because if we trust what we heard so far, it's really the new Daytona USA and if there's only one driving game to have at one's location, it's absolutely this one! Arngrim reviewed this game for Neo-Arcadia, you can read it (it's in french) at www.neo-arcadia.com. One of the special features of OutRun 2 is to have an on-line world-wide ranking, you can check it at the official website of the game. You'll notice that world's best drivers are all japanese players, well, Paul Williams noticed it too so he calls all european players to show themselves and reminds you not to forget to enter your best times on the internet. If you want to try to beat the world-record or simply want to try the game out, you can play it at The Golden Gate which's these days in Genk. There, you'll be also able to play Virtua Cop 3, the third installment in this successful shooter series. The originality this time is that you have a pedal that activates bullet-time (slow-motion seen in Matrix), note you may come across some Shenmue characters in this game!
If you have these games (or others) at your location, thanks to notice us about it so we can keep this website up-to-date. You can contact us at mod@arcadebelgium.be.

Author: AB Team

More info...

Permalink