ATEI 2004 report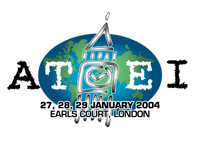 Little report of the ATEI that took place like each year towards the end of january (27-29) at the Earls Court Exhibition Centre in London. This edition was a real success with 294 exhibitors and 13 040 visitors (5,6% more than in 2003) representing a grand total of 119 different countries, 2004 is a record year in the history of this exhibition. That was for the statistics but that's the presented products that interest us, and on that side either we weren't disapointed! The different manufacturers are following the trend observed the last years; give the players the opportunity to play games they can't enjoy home in the same conditions, this means racing simulators and shooters principally...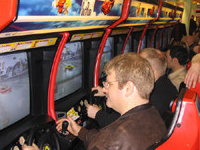 A dozen of racing games were showcased and that's of course Sega's Out Run 2 that was the talk of the town. Without doubt, it's the new Daytona! Due to this, competitive racers passed rather unnoticed even if some titles looked interesting. Sammy's Chase 1929 allows you to drive old cars in the 1920's Chicago, Maximum Speed from the same editor is really fast. It's to be noticed that these two titles are working on Atomiswave, that means you only have to change the cartridge to change the game, rare fact for racing games. Sega was presenting Initial D: Arcade Stage Ver. 3, the last sequel of its manga-themed racers series which is very successful in Japan. Taito was lining up its, more realistic, Battle Gear 3.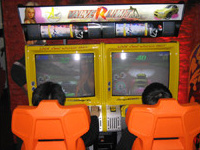 Were also present, Valve Limit by Konami (manufactured by Avranches Automatic) for urban racing and tuned cars lovers, Special Automobile Police Team (by the korean Uniana), a Chase HQ like where the goal is to arrest rebel bikers and Nicktoons Racing by Chicago Gaming, a racing game for youngers. There were also some re-releases like the arcade version of Need for Speed presented by Global VR and San Francisco Rush 2049 "Special Edition" for which the license has been bought back by Betson after Atari's closure. In this cars' world, one motoracing game was emerging; Ring Riders by spanish company Gaelco where you can do outstanding jumps. The Cycraft version of F-Zero AX was there too, adding new sensations to this futuristic racer but the simulator's size reserves its operation to the largest venues.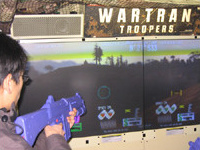 On the shooters side, no big surprise but some sympathic titles there too. Namco's Time Crisis 3 was facing Virtua Cop 3 by Sega, this last one features a pedal to activate the bullet-time (slow-motion effect seen in Matrix). Challengers were also there; Konami was showcasing a war simulator named Wartran Troopers powered by the Triforce system while on Sammy's Atomiswave, you were able to shoot metal cans in Sport Shooting USA or terrorists in Ranger Mission. Namco was also presenting Aim for Cash, a cell-shading shooter.
There were also some fighting games on Sammy's booth but we'll have the opportunity to talk about these soon.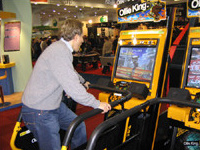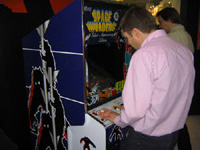 More original was Ollie King, a skate-boarding game by Sega running on the Chihiro hardware. The retro-gaming was also represented by a Taito cabinet hosting both Space Invaders "Silver Anniversary Edition" and Qix.
That's it, we must admit that seeing the number of showcased products, the amusement sector is not doing so bad that we were used to think. What is to be remembered from this year? That this year's edition was a success for both the organizators and the exhibitors, that Sega demonstrates one more time its know-how by making the news with Out Run 2 and that Sammy tries to command attention with its economic cartridge system; the Atomiswave. We'll soon provide you with an article on this subject.
The next edition of the ATEI will take place from 25th trough 27th of january 2005 at the Earls Court Exhibition Centre in London.
Photos taken from Neo-Arcadia.