OutRun 2 SP - Special Tours
Upgraded version of the famous Ferrari licensed game. It offers: 10 cars including 2 new ones (250GTO and 512BB), 15 new courses set through the USA, 14 musical themes (including OutRun and Turbo OutRun original soundtracks). The player can now choose between two handling modes: normal or tuned (faster). Other new feature: it's now possible to use another car's slipstream to quickly gain speed. Crashes are also more forgiving. These two points make the game more nervous than the original version. The best drivers can enter the wordwide internet ranking. For more details, read our review. OutRun 2 SP exists in twin, deluxe and super deluxe 2 or 4 cars cabinets. Twin and deluxe versions are linkable up to 4 players. An upgrade kit for OutRun 2 is also available.

General information:
Title: OutRun 2 SP
Genre: Racing game
Developer: AM2
Manufacturer: Sega
Distributor: Namusco (Belgium)
Release date: december 2004 (deluxe), february 2005 (twin et kit), december 2006 (super deluxe 4 cars), march 2007 (super deluxe 2 cars)
Système: Chihiro (kit, twin and deluxe), Lindbergh (super deluxe)
Format: kit, twin, deluxe, 2 cars super deluxe and 4 cars super deluxe cabinets.
Number of players: up to 8 players
Links: Official website - Review



Cabinet data:
Type: twin
Capacity: 2 players
Screen: ???
Measurements: width= ???cm, depth= ???cm, height= ???cm
Weight: ??? Kg

Type: deluxe
Capacity: 1 player
Screen: 50"
Measurements: width= 128cm, depth= 270cm, height= 205cm
Weight: 250 Kg

Type: super deluxe 2 voitures
Capacity: 4 players
Screen: 62" x2
Measurements: width= 385cm, depth= 320cm, height= 225cm
Weight: 1800 Kg

Type: super deluxe 4 voitures
Capacity: 8 players
Screen: 62" x4
Measurements: width= 825cm, depth= 320cm, height= 261cm
Weight: 3850 Kg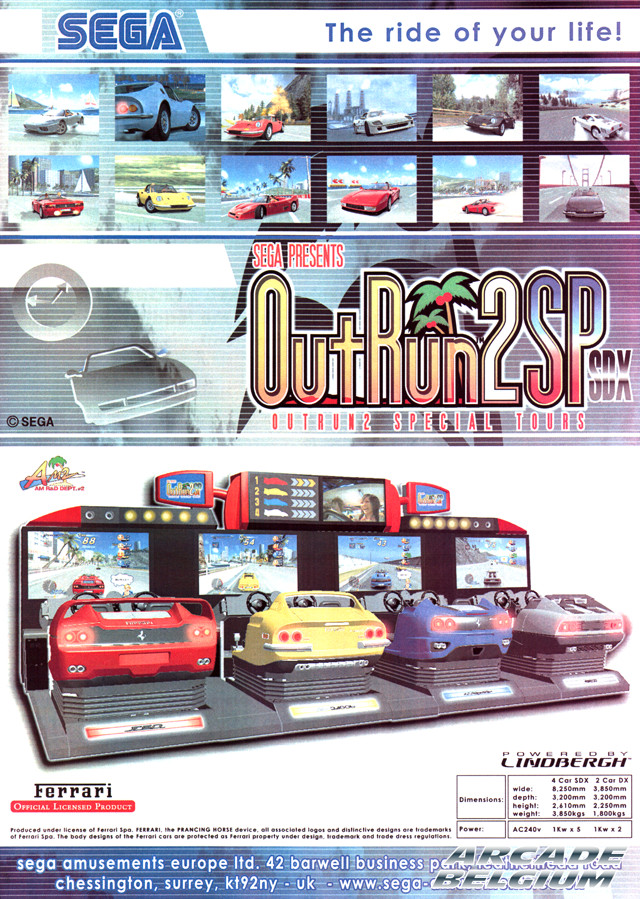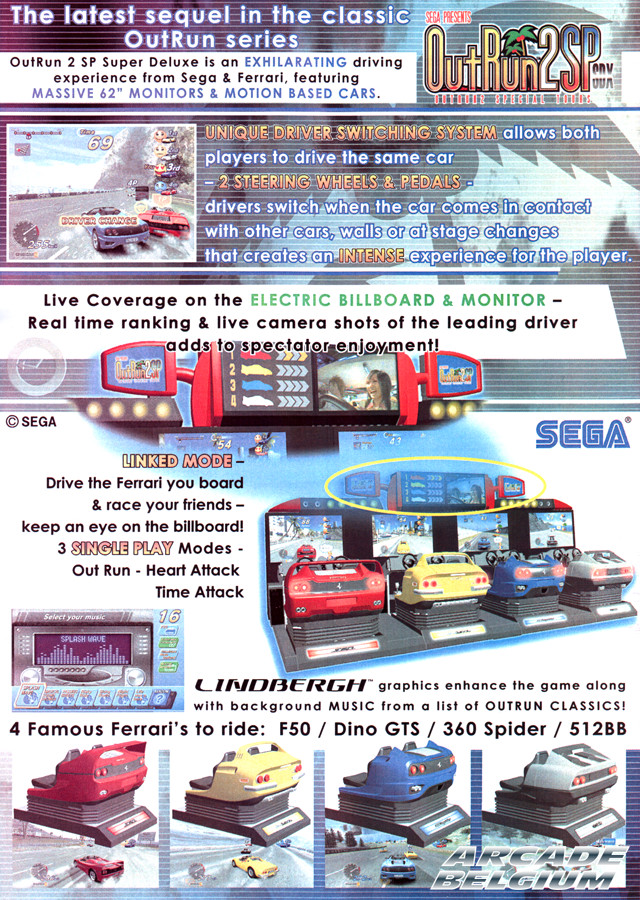 More info...

Back to game list