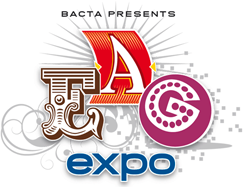 Here comes 2011. ATEI disappears after 66 years of existence. Initiated last year, the reign of EAG ad the only large Londoner Amusement trade show is just beginning. Over 140 exhibitors from all countries had come to present their latest products and services. Let's take a closer look...
What could we observe at this second edition, first of all that interest in music games doesn't fade with titles such as DanceDanceRevolution X2 from Konami, DJ Max Technika 2 by Pentavision and Andamiro's new Pump It Up. Then that more and more video games are equipped with ticket dispensing mechanisms such as Sonic & Sega All-Stars Racing Arcade, Super Monkey Ball Ticket Blitz, Tetris Giant and Hopping Road which are much more advanced than early video redemption titles, which makes them more interesting. As for most arcade games, the quality is consistent throughout the offer, but some games stand out for their quality and/or originality. Especially Deadstorm Pirates, Pac-Man Battle Royale and GRID (which passed the daring test of successfully adapt a home console game to the arcade) which are the best games of the show. We found a nice surprise in the cheap Friction shooter kit from Coast to Coast at UDC. The most disappointing game from a major manufacturer was Sega Golden Gun which is far below the level of an House of the Dead. All of this is just missing some crazy humor. In this regard, we regret the absence of Taito's Gaia Attack 4 which is currently on location test at Funland, London. Taito and Electrocoin must be greeted for bringing Elevator Action Death Parade and Super Street Fighter 4 Arcade Edition to Europe. The
EAG Expo 2011 was a good year with many new titles, the trend seems to be the equipment of video games with redemption systems, is this the solution to revive the market? The future will tell... Anyway, see you next year for a new edition.
Text / pictures: Sophie & Nomax.
All rights reserved.