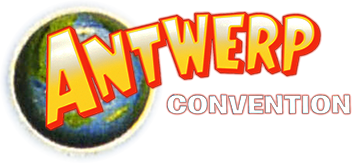 For the fourth edition of the Antwerp Convention that was held in halls 1 and 4 of the Antwerp Expo on on the 27th of April 2014, organizers dedicated a big space to arcade games with several dedicated exhibitors: Carl Jacobs showcasing the latest Stern pinball tables and a Darius Burst Another Chronicle EX, Rastermania selling Eurogame and Naomi cabinets, DDR Belgium, Shadaloo who brought a Japanese THE BishiBashi machine and two Vewlix cabinets and or course, Arcade Belgium.

Games
Antwerp Convention #4 was a great success, especially thanks to the variety of the themes and stands offered, the kindness of the visitors and the seriousness of the organisers. There reigned a family atmosphere despite the size of the convention. Let's not forget the presence of many famous guests such as David Warner, Colin Baker, Jeremy Bulloch, Gemma Whelan and Charles Martinet. We're very pleased to have been able to participate especially as the organisers wanted us to come since the first edition. That had unfortunately never been possible. We hope to return next year with a stand twice as big.
Text / pictures: Sophie & Nomax.
All rights reserved.